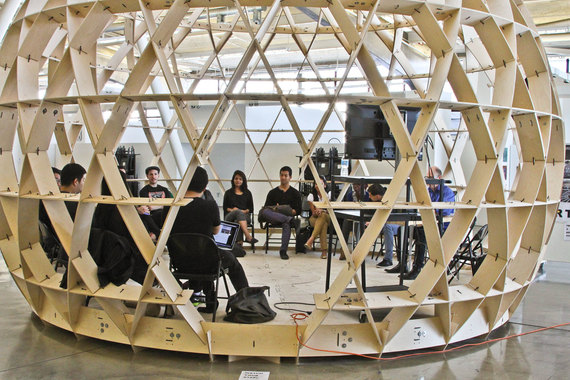 In today's society, and in business in particular, innovation has become the Big Thing. The Prize. The Holy Grail. "If you're not innovating, you're going backwards," according to Virgin Founder and CEO Richard Branson.
Entrepreneurial Spirit
If innovation is so valued in our society, then the protagonist of the story must be the entrepreneur. To some, the word entrepreneur conjures up the image of caffeinated tech workers whose start-up was just bought by Google. Not a bad thing, but also not a model of the entrepreneur that I had in mind. I'm interested in someone who crosses deep boundaries and foregrounds positive social and cultural values as much as economic value.
I like to think of the term entrepreneur more broadly, as in entrepreneurial spirit. And what comes to mind are artists, architects, designers, curators, and writers. The original entrepreneurs–creative people who can see the world afresh and create something entirely new. People who don't accept the status quo. Visionaries. Disrupters. Change agents. People who can relate to the words of artist and composer John Cage:
"I can't understand why people are frightened of new ideas. I'm frightened of the old ones."
Creativity is More Valued Now
Given this emphasis on innovation in our society, it's no surprise that creativity is increasing in value in the workplace. There is a pressing need for creative people across a broad range of industries. Notably, even vaunted Silicon Valley venture capitalists are now focused on developing relationships with art and design schools to attract and cultivate young creative artists and designers who are now recognized as critical members of any successful leadership team.
Innovation is hardly the exclusive domain of engineers, programmers, and scientists. Companies and organizations that have traditionally looked to large research universities for talent are now casting a wider net. They need creative people who bring to the workplace unique problem-solving skills, a deep understanding of the user experience, and, yes, the entrepreneurial spirit.
Cultivating Leaders in Creativity and Innovation
Art school graduates have historically been disrupters. At my institution, California College of the Arts, we see our alumni expanding this role and having a huge impact on social innovation by bringing to light and helping to solve important global issues. Architects and designers have a unique opportunity and ethical responsibility to create environmentally sound solutions. Design business graduates are helping organizations develop new business models with lasting social, cultural, ecological, and economic impacts. And artists play an increasingly significant role in addressing societal challenges as many shift toward work that is collaborative and community-based.
Graduates of art and design schools are ready to take their place as leaders in creativity and innovation. Throughout their education they have learned by making and engaging in project-based education. By graduation they are already experts at integrative team-based thinking and know how to build their ideas through iterative, progressive modeling. They have focused their creativity on things that matter–not just in the classroom, but also out in the world. This kind of education has provided the tools and the framework for them to lead and succeed.
Comfort with Uncertainty
Of course, success may not come quickly or easily. There will be failures, but we hope they are productive failures that inspire other pathways and solutions. IDEO, the innovative design firm, has as its motto, "Fail often to succeed sooner." In other words, those who take no risks–who are afraid to fail⎯reduce their chances for success.
I believe that one of the most important predictors of success is the ability to be comfortable with uncertainty–with the possibility of failure. The great American philosopher and educational reformer John Dewey famously said:
"Every thinker puts some portion of an apparently stable world in peril and no one can wholly predict what will emerge in its place."
Every year at our commencement exercises I look out at the graduates and see thinkers, makers, and innovators–many of whom will become (or already are!) entrepreneurs. They will start businesses and organizations. They will form partnerships, collaborations, and collectives. Whatever path they may take, I know they will embrace the qualities of the entrepreneur: insatiable curiosity, a passion for life, a willingness to take a chance, grit, and perhaps most importantly, a questioning of the status quo.
— This feed and its contents are the property of The Huffington Post, and use is subject to our terms. It may be used for personal consumption, but may not be distributed on a website.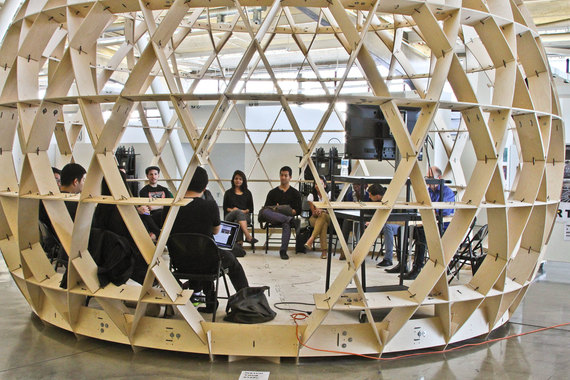 Source: Black Voices Huffington Post
Link: The Original Entrepreneurs: Artists and Designers