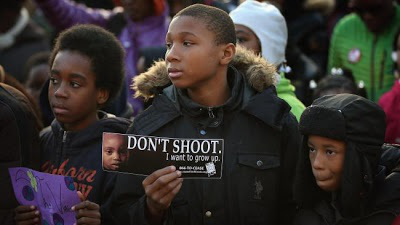 Friday, May 20, 2016 a little before 4pm, a 49 year old Chicago woman was tragically shot and killed while exiting Starbucks two blocks away from Chicago Police Department Headquarters. Yvonne Nelson, a city employee with the Office of Emergency Management and Communications, was killed by a gunman allegedly targeting a young man near the Starbucks door who was also shot several times. She was the 1,284th person shot in Chicago this year, and the 241st fatality. This story is incredibly sad, and I send my deepest condolences to Yvonne's family.
When I saw this news story on Facebook, I clicked to read the comments below the article. Many people offered condolences and remarked on how alarming the gun violence rate in Chicago has become. One particular comment thread caught my eye.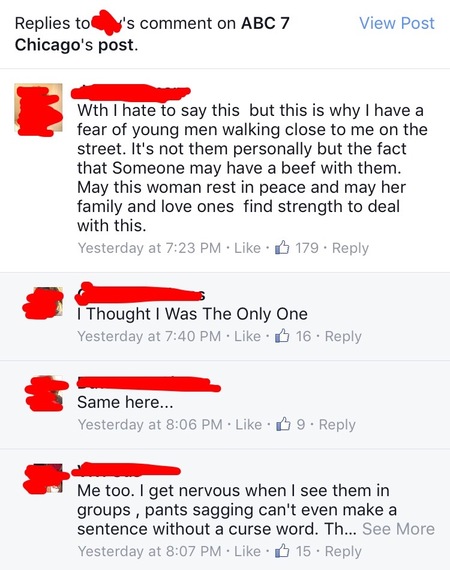 I had many thoughts after reading this comment and the thread of replies below it sharing similar sentiments. My first that was, "what young men are you talking about?" I posed this question to the commenter and didn't get a response. I doubt that she is afraid when young white men are walking near her in downtown Chicago or on the north side of the city. It isn't hard to assume what kinds of young men she has a fear of being near. Sadly, the "dangerous thugs" stereotype is one that young men of color, Black men in particular, have had to battle for decades. The fact that this particular subset of young men is most often the victim of gun violence in Chicago doesn't help.
My next, and most important thought, was "imagine how they feel!" As a former teacher, every day I'm afraid that I'll get a call or text stating one of my former students has been shot, a fear that was sadly realized a couple of weeks ago. As a Black woman with many Black male relatives and friends living and working in the city, I'm always afraid that my brother, uncles, cousins, or friends will be killed. Every single time there's a shooting in Chicago, I read articles and watch the news praying that I don't recognize the name of the victim. And yet, I know my fear is nothing comparing to what young Black men must feel every single day.
If people are afraid to walk near young Black men for fear of being an unintended victim of gun violence, imagine how afraid these young Black men must be to walk around in Chicago at all. Almost every day, they face news of someone who looks like them being shot in Chicago. Sadly, many of these victims are innocent bystanders or unintended targets. Imagine waiting for the bus or train to get to school like my students do each day, hoping you're not mistaken for someone else and shot. Imagine walking to the store, hoping no one assumes you're in a gang that you're not in and shoots you. Walking home from a basketball game, going to the mall, riding a bike down the street, the list could go on and on. Every day, these young men have to wake up and walk through a world where people assume they're gang-affiliated because they're young and Black, lock car doors or clutch their purses tighter as they walk down the street, and follow them through stores to ensure they don't shoplift. Now, in Chicago and elsewhere, there's the additional fear of being shot over a case of mistaken identity, erroneous assumptions, or just being in the wrong place at the wrong time.
You fear being near them, but imagine being them. We live in a society so obsessed with self and social media that both empathy and sympathy are severely lacking. Everything has become so self-centered that sometimes we don't consider how our comments will affect others. People often post, react, and respond without thinking about the impact of their words or actions. Next time you're walking near a young Black man on the street and feel tempted to move away from him out of fear, imagine the fear he must face each day. They're young, scared, and often ignored.
— This feed and its contents are the property of The Huffington Post, and use is subject to our terms. It may be used for personal consumption, but may not be distributed on a website.

Source: Black Voices Huffington Post
Link: Empathy for the Young Black Men in Chicago