DR. CAROLYN GRUBBS WILLIAMS LEADERSHIP DEVELOPMENT INSTITUTE (LDI)
In keeping with its mission, NCBAA presents the Fourteenth Annual Leadership Development Institute for African American Midlevel Administrators. The Institute prepares African Americans in community colleges for leadership roles to insure that the pipeline to executive-level positions is fluid.
NCBAA is committed to delivering an exemplary leadership development program for African Americans in community colleges so as to enhance their leadership skills and provide opportunities for professional and personal growth.
TARGETED AUDIENCE
The targeted audience for the institute includes deans, faculty, supervisors, others in community college administrative/leadership positions and individuals transitioning into the community college system.
INSTITUTE STRUCTURE
The institute (LDI) will begin Sunday, October 23, 2016 at 4:00PM and end on Friday, October 28 ,2016 at 10:00PM following the closing banquet. The 2016 institute will be held in St. Paul, Minnesota hosted by the Minnesota State College and University System.
Participants selected for LDI will be completely immersed in leadership activities, including some evenings, for the entire week. An interactive approach will be utilized to facilitate focused dialogue on community college issues pertaining to leadership, ethics, diversity and inclusiveness, global awareness, technology and institutional change and development. Additionally, all sessions are deliberate and purposeful so as to develop and enhance leadership skills for the present and future.
CURRICULUM
The curriculum is based on the AACC Competencies for Community College Leaders (Second Edition, 2013). These competencies include organizational strategy, institutional finance, research, fundraising, resource management, communication, collaboration, and community college advocacy. Review the AACC Competencies for Community College Leaders (Second Edition) at www.aacc.nche.edu
BENEFITS
All sessions are facilitated by distinguished community college leaders. Additionally, networking opportunities with African American leaders and Lakin participants, research opportunities, complimentary membership to NCBBA and its regional affiliates, and membership in the Scholars Alumni Association are provided. Additional benefits of attending this institute are provided by testimonials from the LDI 2013 Scholars at the bottom of this page.
RESEARCH
Research on leadership preparation has been provided by two LDI Scholars as indicated below.  Opportunities for scholarly research are encouraged by NCBAA.
Beatty, K. (2011). Empowering black women to lead: A phenomenological study examining the role of the NCBAA Institute in the development of midlevel community college administrators.
Lemons, K. (2007). Are leadership preparation programs delivering on their promises? An evaluation of a mid-level administrator's leadership institute.
EXPENSES
The institute fee is $1500 which covers materials, Sunday opening reception, breakfast and lunch Monday-Friday, and the Thursday evening closing banquet. Participants must provide own transportation, hotel and other meal expenses. All sessions are held at the hotel venue to eliminate cost to participants. However, transportation to any off-site facility will be provided.
SCHOLARSHIP AID
Two scholarships are available to support program participation.  The Dr. Marian C. Shivers Leadership Scholarship  ($1000) and the Mary E. Coleman Scholarship ($1500) will be awarded to participants who are employed in a community college and meet all other requirements as specified on the scholarship application form referenced below.   Applications for the scholarships will be accepted from April 18 – September 9, 2016.  
APPLICATIONS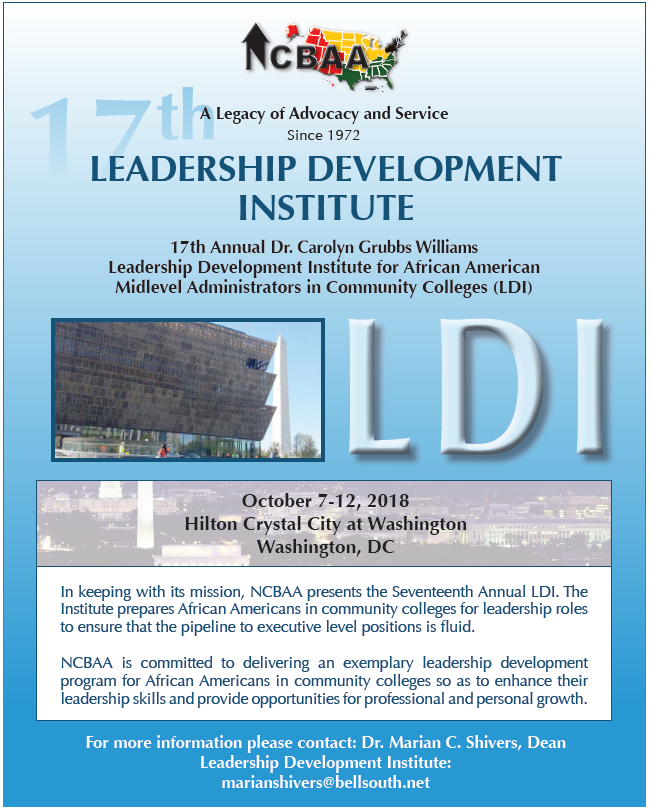 INSTITUTE CONTACT PERSON
Dr. Marian C. Shivers, Dean
Leadership Development Institute
marianshivers@bellsouth.net
SCHOLARS' TESTIMONIALS
Attending the Dr. Carolyn Grubbs Williams Leadership Development Institute for African American Midlevel Administrators in Community Colleges was a valuable experience. Looking at the role of a leader through the experiences and eyes of others truly helped me to develop my own philosophy as a leader and an agent of change. I aspire to make a change where I can be of assistance to the students and future leaders following in my footsteps….
The LDI was, by far, the greatest professional development opportunity I have ever been involved with – the week was truly transformative.
The NCBAA Leadership Institute is an invigorating leadership experience that can help you to take your knowledge and leadership skills to the next level.
The NCBAA Leadership Development Institute, most certainly, has intensified my motivation to ascend the leadership ladder. The skills learned and experiences shared by former and current leaders, have truly inspired me. This is the best leadership training exercise I have ever experienced. Simply fantastic!
Everyone was well educated, committed to the community college mission, and Black. I've never been in a room like that before!
One week at the NCBAA Leadership Development Institute will leave one empowered to be the change in his or her organization, which will lead to their ultimate accomplishment for executive leadership in higher education.
This has been one of the most beneficial leadership development opportunities I have experienced. It allowed me to truly reflect on where I want my professional journey to lead me. The depth of knowledge of the presenters was both phenomenal and authentic. I enjoyed the uniqueness in every presentation. The candid advice provided will certainly benefit me as I continue to travel my designated pathway to success.
I am humbled and energized by my experience as a Scholar in the Dr. Carolyn G. Williams LDI. I now have tools, resources, and support systems conducive to building a solid foundation for a successful and purposeful career as a community college administrator. I'm fired up and ready to go!