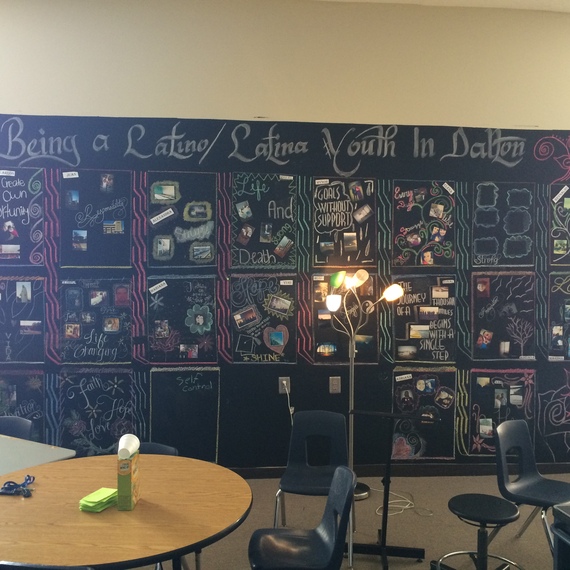 Walking into the art class at the Morris Innovative High School, it's impossible to miss the large mural on the wall. Painted by the students, it's a beautiful depiction of their life stories inspired by watching the film Documented, about the undocumented American (and founder of Define American) Jose Antonio Vargas. Unique, however, is that above the stories reads the bold title: "Being a Latino/a in Dalton, Georgia." It is remarkable, not because they are excluding non-Latino/a students, but because there are only Latino/a students in the class.
According to the most recent census, Dalton is 48% Latino and 42% White. Those who have lived in the community for decades are quick to point out that just a generation ago, Dalton was almost all White.
These trends aren't unique to Dalton. White Americans are an emerging racial minority in many parts of the country. In fact, students who identify as "White" became a minority in K-12 public schools for the first time nationally during the 2014-2015 school year. Our institutions must reflect the populations they serve, and must ask undocumented families what support they need in order to succeed academically – boldly and publicly standing in solidarity.
In places like Dalton, GA, the community's response is shining a new, bright light on the entrepreneurial and compassionate spirit that has helped the community remain vibrant. One example is the school system's "Newcomers Academy." Faced with a consistent influx of children, the system has dedicated a team of top-notch teachers specifically responsible for preparing migrant children to succeed in the larger education system. When I spoke to this group of "newcomers," one young student kept nodding off in the front row. The teacher later informed me that the student had been working from 7 p.m. to 7 a.m. daily in a local factory, then going to class, because a Coyote (the name for those who smuggle people across the Mexico-United States border) was holding her extended family in Honduras hostage until she paid off the ransom.
That's certainly not the life I had as a sophomore in high school.
According to the Center for American Progress, nearly 17 million Americans live in "mixed-status" households – meaning one or more people in the family are undocumented, even if all other family members are citizens. Families like Maria Gonzalez's.
I met Maria Gonzalez, a mother who is undocumented sitting with her children, both citizens, in the foyer of one of Dalton's largest, mostly-white churches.
"Do you drive?" I asked, knowing in Georgia they don't allow people who are undocumented to obtain driver's licenses.
"I must drive because I need to feed my kids," said Maria, "but I have taught my kids that if I ever get pulled over not to cry."
"Is that because that would give it away that you are undocumented?" I asked.
"No, said Maria, "I train them not to cry because getting pulled over means I will be deported, and not to cry because my church family and their friends from school will take care of them when I'm gone."
Maria's entire life is consumed by the reality that she could be separated from her children – possibly forever – at any moment. Maria isn't the only one. Whether the citizens of Northeast Georgia like it or not, millions of undocumented Americans drive every day. They do so because in many communities, especially in the South, there is limited public transportation. They drive for the same reasons other Americans do: to go to work, to visit the doctor, to see family, and to take their kids to school. And, this anxiety, despite Maria's brave motherly wishes, is not lost on her kids. It weighs on them as they consider their algebra exams and analyze the quadratic formula. If their institution wants them to succeed, they can't ignore this weight. Institutions must also come out, recognizing and preparing for this reality.
So, what does it mean to be Latina/o in Dalton, GA? I would argue the more important question facing those of us who are not newcomers is, what response do we give to those who come seeking refuge, and are simply asking for an opportunity at a better life? Maria's community is actively trying to discover how to become a beloved community to one another. The dedicated and amazing teachers and staff in the Dalton public school system are trying to figure out the same. In doing so, they're betting their own future on the success of these new Americans. We are willing to make that same bet, and that's why Define American is proud to sign on as a partner in United We Dream's National Institutions Coming Out Day. NICOD is designed to encourage, uplift and build with institutions, educators and undocumented young people who have led efforts to improve access to education for immigrants.
If you are an educator, or know someone who is, chances are you've heard stories of students who just disappeared from class one day, likely because their family feared being picked up by ICE (U.S. Immigration and Customs Enforcement). Or parents who wrote contingency plans for who should pick up their child if they were put into deportation proceedings while their child was at school. Teachers across the country can tell you how fraught it becomes to teach U.S. history and civics, while knowing that some of their students cannot fully participate in our democracy because of their status. Determining what it means to be an institution that holistically supports undocumented students and their families is a goal that only the undocumented immigrant community itself can define.
You can make a difference: If you are a teacher who can commit to making a change in your classroom in one year, United We Dream wants to help uplift and continue to build upon your work. We want you to join our coalition annually and build upon your commitments so that one day not just your classroom, but your entire school, can truly celebrate and support undocumented students and their families. Change at every institutional level is key – within a classroom, a division, a district, in K-12, higher ed, and more – and it starts with you.
— This feed and its contents are the property of The Huffington Post, and use is subject to our terms. It may be used for personal consumption, but may not be distributed on a website.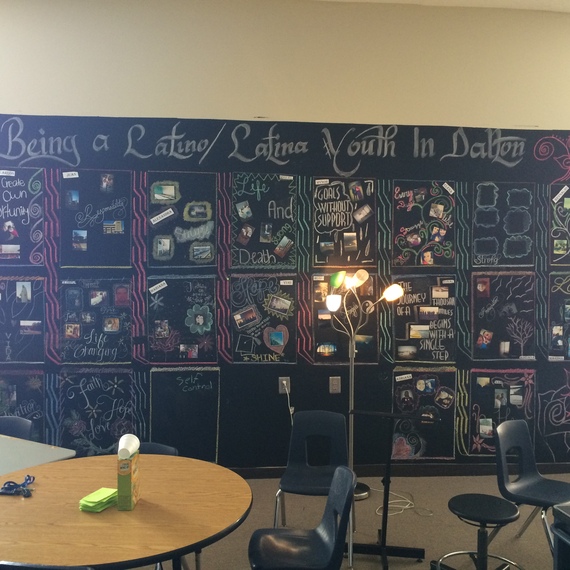 Source: Black Voices Huffington Post
Link: Compassion 101: It's Time for Schools to Come Out