To find out what The Museum of Contemporary African Diasporan Arts (MoCADA) means to its loyal supporters all you need to do is ask. That's exactly what executive director, James Bartlett did at the museum's 2nd annual MoCADA Masquerade Ball held on May 19 at the Brooklyn Academy of Music. Instead of delivering a fully prepared speech, Bartlett asked the gathering of influencers to share with their neighbor what MoCADA means to them. The responses–which Bartlett had participants shout-out from the audience–included community, social justice and art.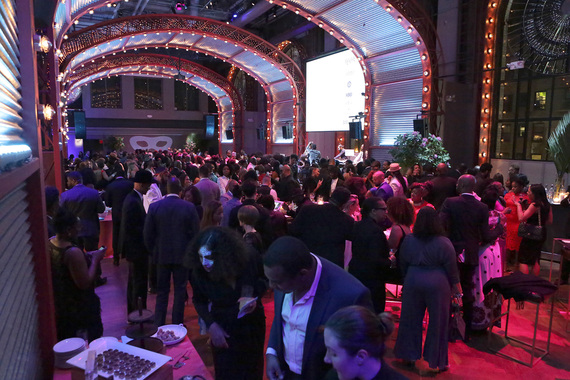 Courtesy: MoCADA
For Bartlett those values guide the museum's mission as it is currently in the design phase of its 2018 relocation to a 7,000 square foot $10 million space in Brooklyn's Cultural District. "What differentiates us from organizations with an international reach is an emphasis on community, social justice and arts programming in public housing, schools and parks for black girls and boys to see images of themselves," he told the crowd.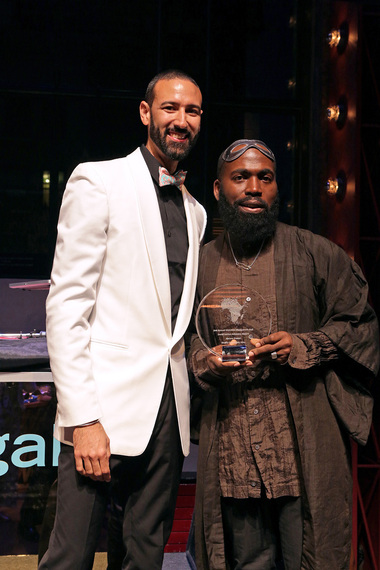 James Bartlett & Derrick Adams/Courtesy: MoCADA
Since being founded 16 years ago by New York City Council member, Laurie Cumbo the museum has produced more than 60 exhibitions and 500 public programs, within Brooklyn and beyond. This year the museum honored visual artist, Derrick Adams (Artist Advocacy Award); co-founders of Studio One Eighty Nine, Rosario Dawson and Abrima Erwiah (Social Justice Advocacy Award); and The Rockefeller Foundation (Philanthropic Advocacy Award).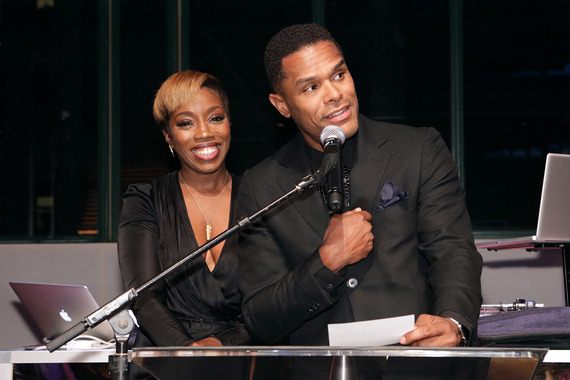 Estelle & Maxwell/Courtesy: MoCADA
Eyebeam Awards Honor Climate Crusaders, Not An Alternative
Much like MoCADA, an emphasis on the public good is also central to the mission of Eyebeam. Since 1997 the nonprofit studio has served as an incubator of sorts for collaborators to explore and connect technology, creativity and social justice. According to the Brooklyn-based organization some of their projects have led to breakthroughs in online "sharing" protocols, 3D printing and what is billed as the first Arabic programming language, Qlb.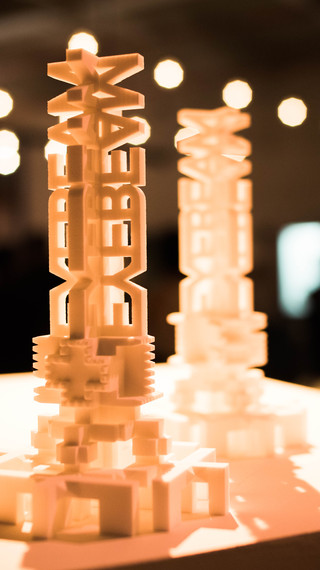 3-D Printed Trophy Designed by NSHR/Courtesy: Eyebeam
At the Second Eyebeam Awards Benefit at Industry City Distillery on May 10, honorees included former curator at The Museum of Modern Art (MoMA) and founder of the museum's video exhibition and collection programs, Barbara London and the arts collective and artist-run nonprofit organization, Not An Alternative.
The latter most recently made headlines for releasing a letter last year admonishing science and natural history museums that accept funding from fossil fuel companies. By some accounts the letter helped lead to philanthropist and climate change denier, David H. Koch's departure from the board of the American Museum of Natural History. In the group's acceptance speech they emphasized their strategy to move from critique to working with museums to reimagine their systems.
"Beyond critique we are very interested in intuitional liberation," said co-founder, Beka Economopoulos. "Our museums are sties of struggle between public and private interests. Over the last few decades the fossil fuel industry has been embedding itself in museums dedicated to communicating science. This prevents museums from equipping visitors with tools they need to understand and shape a rapidly changing world. We want to call on institutions to think critically about narratives, displays and what they communicate to the public in regard to perspective and opportunities to act in service for a future for all of us."
****
The column, On the "A" w/Souleo, covers the intersection of the arts, culture entertainment and philanthropy in Harlem and beyond and is written by Souleo, founder and president of arts administration company Souleo Enterprises LLC
— This feed and its contents are the property of The Huffington Post, and use is subject to our terms. It may be used for personal consumption, but may not be distributed on a website.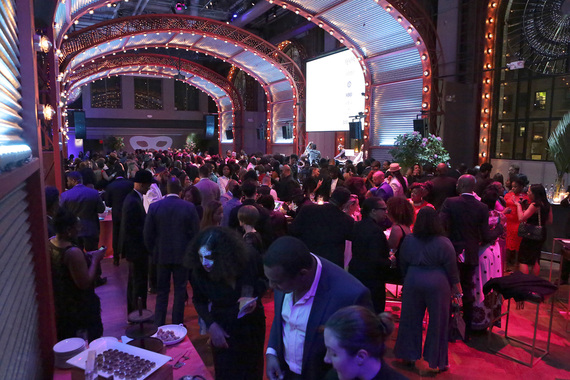 Source: Black Voices Huffington Post
Link: On the "A" w/Souleo: Maxwell and Estelle Help MoCADA Celebrate Art & Activism