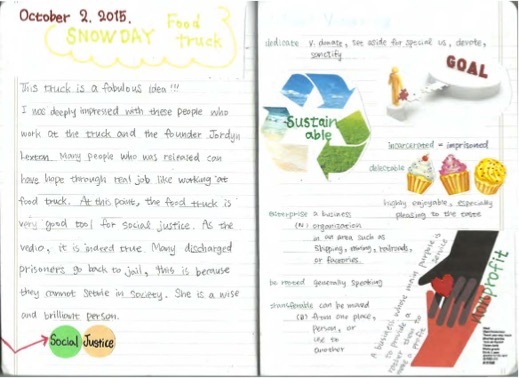 When I was 16, I traveled by myself for the first time. I took the train from Rome to London and spent three weeks with a local family to improve my English. The whole experience was life-changing, as it forced me to deal with a strange environment, behaviors that at time did not make much sense, a language that was still quite mysterious and, oh yes… British food. Fast food restaurants drew me in for their weird colors, the splashy pictures on the menus, and an aura of cosmopolitanism to which my adolescent self had not been exposed yet. For dinner, my landlady would serve a mix of British mainstays and exotic dishes. I was particularly intrigued by rice with coconut and shrimp, which she said she had learned from a Sri Lankan friend.
The moments we spent around the table with family members and frequent guests turned out to be crucial not only for my culinary education, but also for the improvement of my English. As I negotiated different manners, ingredients, and dishes, it really was in my interest to understand what I was ingesting. Furthermore, the quick and often confusing chatter around the table forced me to delve into aspects of spoken slang that I would not otherwise have learned in school.
This was just the first occurrence when learning a foreign language was, for me, interwoven with exploring an unknown cuisine. It happened again when I studied Chinese history in Beijing for two years. I had to survive state-run cafeterias and the burgeoning free economy, with new restaurants and markets; among which, the Chinese also moved quite tentatively, after years of scarcity and political turmoil. When I was writing hard news stories in international affairs, I enjoyed simple soups with guerrillas in the forests of Myanmar, exquisite tea with pilgrims in Sanliurfa, Turkey, and spicy handmade noodles with hurried businessmen in the overwhelming Kashgar market, in Xinjiang, China.
Commensality, the act of eating together, can open us up to unknown people, places, objects, and practices as few other experiences. After all, our bodies and their metabolic dynamics are in themselves the result of commensality. As the growing research on the microbiome indicates, millions of bacteria, yeasts, and other microorganisms help us digest and absorb nutrients. At the macro level, our choices are entangled in food systems that connect soils with plants and animals, producers, distributors, consumers and all the living creatures that contribute to turn leftovers and waste into compost. French sociologist Claude Fischler observed, we as humans are constantly pulled between neophilia, the curiosity for new foods (probably an evolutionary leftover of our need to constantly secure new sources of food) and neophobia, the well-founded fear that an unfamiliar substance could hurt or even kill us. However, we cannot forget that exposure to new cuisines can also lead to tensions or clashes, and historically food has been often used as a tool to isolate, belittle or oppress entire populations.
Multicultural communication, both verbal and through actions, is not easy. We all need to be taught how to make the most of it. In the process, we may learn a foreign language. That is the inspiration behind the food-centered English as a second language courses at The New School. Last weekend, together with my colleagues Tamara Kirson and Jessica Dukes, I had the opportunity to share these experiences at the NYS TESOL Applied Linguistics Winter Conference, at Columbia University Teachers College. Jessica has been the driving force behind the Language of the Kitchen course, part of the ESL+Food Certificate, which aims to help students build their English proficiency to work as professional chefs or study local and global food issues in our Food Studies program. She uses different strategies, from crosswords to videos, to support the learning process. Tamara, who also collaborated with Jessica on the Language of the Kitchen, has been using food for years as the focus of her courses, focusing on aspects as diverse as food justice, sustainability, food trucks, and local foods. In her class, students write food journals (like the one in the picture) that allow them to express their daily struggles with their new lives but also their reflections, hopes, and victories.
Their pedagogy and the success of their approach suggests that food and commensality can be effectively used as teaching tools, bringing the students' personal experience – intellectual, emotional, and sensory – into the learning process.
— This feed and its contents are the property of The Huffington Post, and use is subject to our terms. It may be used for personal consumption, but may not be distributed on a website.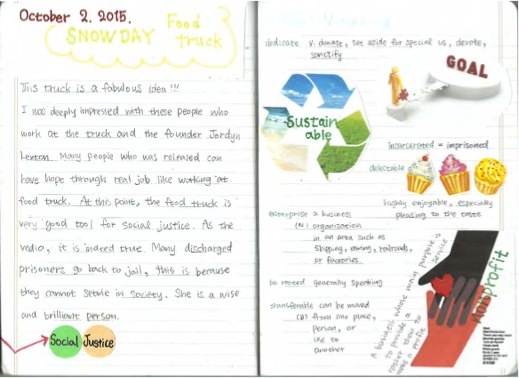 Source: Black Voices Huffington Post
Link: Feed me English: Commensality and Learning Foreign Languages