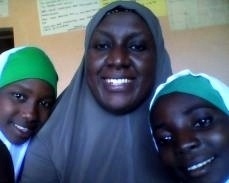 Two years after the Nigerian schoolgirls were kidnapped, one determined teacher discusses girls' education in Nigeria.
#BringBackOurGirls captured the world's attention two years ago. And then time passed. And the world's attention wavered. But in Nigeria, educators like Habiba Mohammed refuse to give up the fight for girls' education.
Of the 276 schoolgirls kidnapped from Chibok, Nigeria in April 2014, over 200 remain unaccounted for. What little news exists about their fates is grim, with reports that some of the schoolgirls have been used in terrorist attacks. And it is far from Nigeria's only tragedy.
"There have been assaults on girls in other schools," notes Ms. Mohammed, who is also Director of the Center for Girls' Education in Northern Nigeria. "Many girls are still battling with trauma."
To these attacks, she adds a long list of obstacles for girls receiving and completing their education — poverty, early marriage, teenage pregnancy, hunger, fear of insurgency and fees for senior secondary school. Yet even when gender isn't a barrier in and of itself, the general state of the Nigerian school system poses its own problem.
"The quality of education is bad," she says simply, and quotes a mother she interviewed while doing research, "She said, 'I sent my first daughter to school. She cannot read after six years. I will not send my second daughter.'"
But one thing Ms. Mohammed is not is defeated.
"[E]very girl should be given an opportunity to go to school and expand her opportunities," she emphasizes. "An educated girl can be a barrier to poverty and other ills in society."
"When there is community engagement — with community leaders, religious leaders and parents — enrollment tends to increase in schools," Ms. Mohammed says.
She credits her time on the Teaching Excellence and Achievement Program (TEA) with strengthening both her teaching skills and her resolve. Since returning from the U.S.-based training program she says, "I tend to speak out on behalf of women and girls without fear."
"My experience on the TEA program really helped me in my career … I was able to broaden my understanding of gender equity (girls education), different teaching methodologies, and using technology to teach," says Ms. Mohammed.
She isn't alone in this struggle. She notes the work of Champions4Change (C4C) and the Youth Empowerment and Development Initiative. In addition, Nigeria's President Muhammadu Buhari has publicly stated that "[W]e must educate more young girls, ensuring they will grow up to be empowered through learning to play their full part as citizens of Nigeria and pull themselves up and out of poverty."
The link between gender, violence and education isn't confined to Nigeria. It remains a global problem. But the world is responding. Established programs like TEA tie into newer, whole-government initiatives to deepen teachers' ability to educate their students, especially girls.
Enhancing girls' access to quality education in safe environments is one of the core objectives of the newly released U.S. Global Strategy for Adolescent Girls. Other initiatives like #LetGirlsLearn serve to bring more resources and, refreshingly, improved coordination among U.S. government education and girls' empowerment programs.
We tend only to hear about the tragedies, as powerful and pervasive as they are. Meanwhile, the parents, educators and activists of the #BringBackOurGirls movement continue to advocate for the return of the Chibok girls.
And despite numerous barriers, teachers like Ms. Mohammed and her peers are working to transform cycles of poverty, violence and poor education to benefit girls, their societies and the world.
Teaching Excellence and Achievement Program (TEA) is a program of the Bureau of Educational and Cultural Affairs of the U.S. Department of State and implemented by IREX.
— This feed and its contents are the property of The Huffington Post, and use is subject to our terms. It may be used for personal consumption, but may not be distributed on a website.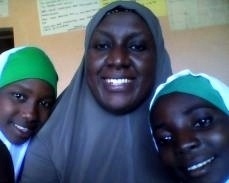 Source: Black Voices Huffington Post
Link: #BringBackOurGirls Two Years Later: A Nigerian Teacher Speaks