Year 2: African American Leadership Institute: Thinking and Becoming the Next CIO
Conference Dates: 11/15/21 - 11/16/21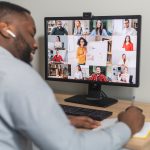 In collaboration with the California Community College Chancellor's Office, Dr. Tammy Robinson, President, National Council on Black American Affairs (NCBAA) invites all to participate in an exciting Year 2: African American Leadership Institute.  As colleges continue in their hybrid state of working/teaching, there are many issues completely new to our world of work.  Consider spending time with professionals across the college community for two days to discuss this new world and how we and our institutions can thrive.  Even if you attended last year, the topics are always new and necessary for success at the next level.  
Registration begins now for Year 2: African American Leadership Institute(AALI). The event will be held on Monday, November 15, 2021, and Tuesday, November 16, 2021. The event will be from 9:00 am – 4:00 pm.
It will be a two-day virtual event where we will discuss areas of focus necessary for success as a Chief Instructional Officer. Event registration is $225.00. 
Register Now Using the Zoom Link Below and Download and Pay the Invoice to Complete Registration