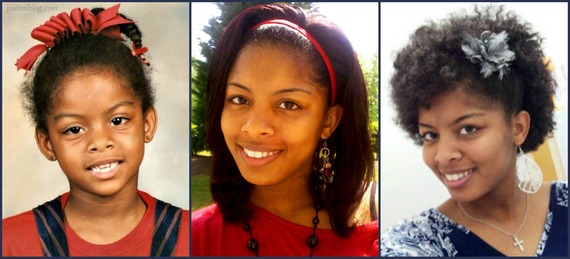 On January 30, 2012, I was sitting in a salon getting a fresh relaxer and color put into my hair. I'd been getting relaxers for as long as I can remember. I knew going natural was not the route for me! So, what made me decide to go natural?
Historically speaking, I've never had too many problems with my hair; it's been long and healthy most of my life. My sister and I would go to a barber shop to get our relaxers. My mom started doing our hair to save money. Don't get me wrong! She did a wonderful job, but she's no cosmetologist! She did this for years, and we were doing well until August 2008.
That August my hair came tumbling down and off my head! I can remember it like it was yesterday. I was letting the relaxer sit, and I went to scratch my head. I looked down at my hand and I had strands of hair on my fingers.
"I was letting the relaxer sit, and I went to scratch my head. I looked down at my hand and had strands of hair on my fingers. "
I felt around my hair some more… and more hair was coming out. After I washed the relaxer out, I knew something was wrong. I lost most of my edges and a good chunk of hair in the middle of my head. Watching my hair fall out devastated me, but I was trying to be calm.
After that mishap my mom told me she was no longer doing my hair and that I needed to start going to a professional. So, in a city where I wasn't too familiar with the hair salons, I had to find somebody to do my hair. To make a long story short, I found a salon and stayed with that stylist for about 2.5 years. While there, I noticed this cycle my hair would go through. We'd cut my hair; it would grow out beautifully; it would thin out; and we would cut it again. Cut, grow, thin, cut! It was a very vicious cycle that was out of my control.
I would mention my thinning hair to my stylist and wouldn't get the answers, or comfort, I needed. I was tired of going through the cycle. Despite the many times I said I would never go natural, it was starting to look like the most viable option.
"Despite the many times I said I would never go natural, it was starting to look like the most viable option."
The first person I watched go through this process was a friend. Watching her care for her hair initially confirmed for my thoughts that going natural was not for me. A year into her journey, my thoughts changed. I was able to watch the process play out over time and it was really starting to look like a better option for me as my hair was starting to thin, again!
Weaning myself off the salon was hard, but I stayed out for about, hmm, three months! I did well with my hair, but it was long and fighting with the two textures made it even harder to handle. I went into being natural thinking I shouldn't go to the salon because that wasn't a part of the process. For some it is, but my goal was the have healthy hair. At that moment, that meant finding someone who could help me through my transition.
I found a salon and a cosmetologist who specializes in both natural and relaxed hair. I went for a consultation and committed to the salon then and there. I like having someone who knows what they're doing see my hair and answering questions; I like having someone to vent to when my hair is not cooperating with me!
The big chop was the next step. This was something I also heavily resisted. I've always had long hair, so I was very nervous about cutting my hair. However, I did it with little hesitation on November 13th, 2012 after transitioning for 10 months. The big chop was the start of a new chapter of my journey. It excited me and I was ready!
Here I am, four years later. This journey has been a wild one and during that time I've learned a lot about my hair and myself to include these four things:
My hair isn't like a lot of the natural hair types I see on social media, and that's okay. My hair is special, just like me, so it requires special attention, time, care, and patience.
Being natural is not easy. I have to be mindful of the different stages of hair growth and remember that things worth having are worth working for! I'm willing to give it the effort it needs.
Everyone will not cheer on your decision to be natural. I'm okay with that. I live with my hair and take care of it daily. The only opinion that matters is mine.
I'm committed to working towards my goal of healthy hair, regardless of what it takes. I'm in 100%.
"Being natural is not easy."
When I discovered my natural hair journey was not like I was expecting, I decided to blog about it. I'm documenting my journey so I can look back and see the changes in my hair over time. I also want to help people. I share my stories with the hope that people can relate to what I'm going through. Oh, you had a mishap when taking out your sew-in? Me too. Here's what I did! You just moved and you're looking for a salon in your area? I went through that exact thing. Here are the steps I used to find a new salon! My blog is out there for people looking for a real-life, non-fairy tale, resource.
This has been a growing process and it still is. When I decided to go natural, I had a goal in mind. That goal continues to drive my decision to be natural… on the good days and the bad ones.
To get the full story, with pictures, visit my 1 Year Naturalversary post at bit.ly/1sMvBbp.
BIOGRAPHY: Mionna L. Henderson; Founder and creator of the Natural hair and lifestyle blog, Just Mi! (www.justmiblog.com)
—
This post is part of HuffPost's My Natural Hair Journey blog series. Embracing one's natural hair — especially after years of heavily styling it — can be a truly liberating and exciting experience. It's more than just a "trend." It's a way of life. If you have a story you'd like to share, please email us at MyNaturalHairJourney@huffingtonpost.com.
— This feed and its contents are the property of The Huffington Post, and use is subject to our terms. It may be used for personal consumption, but may not be distributed on a website.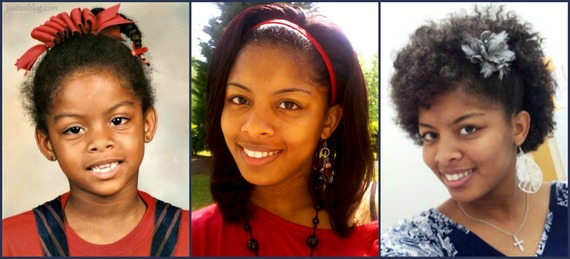 Source: Black Voices Huffington Post
Link: I Never Wanted to Go Natural… So Why Did I?