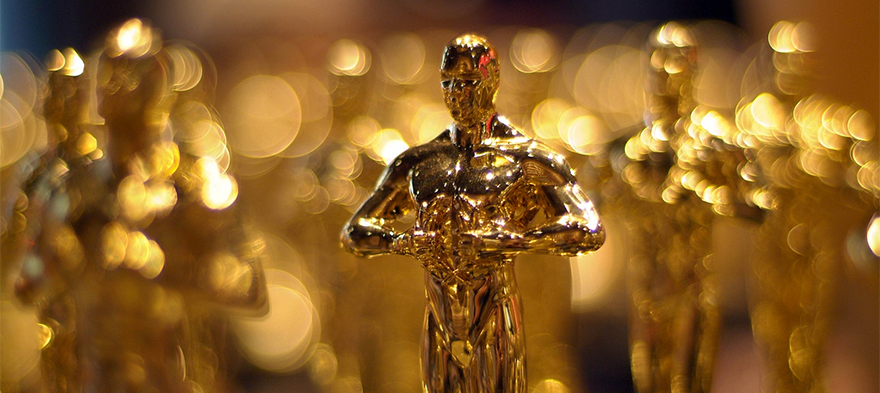 The film "Spotlight" deservingly took home the top Oscar Sunday night for its portrayal of the Boston Globe's hugely consequential investigation into cases of widespread and systemic child sex abuse in the Boston area by numerous Roman Catholic priests. The story was published in 2002, and the investigations into clergy sex abuse mushroomed around the world.
Fast forward 14 years and change the topic from church to school, because sex abuse by teachers and school staff is frighteningly alive and well in America. And, quite tragically, it might just be the only "equity" we see in the system. Sexual predators find ways to hide among children, and they don't care if they're rich or poor or black, brown or white.
From the most prestigious boarding schools in New England to the poorest schools in Los Angeles, equal-opportunity evildoers are on the payroll. It has long been clear that, as the Catholic Church did, districts and school leaders have sat by for years or even decades while known abusers have moved on to work in other schools in different states.
The practice of recommending teachers suspected of abuse even has its own moniker of "passing the trash" and it has been allowed to go on because, as with the Catholic Church scandal, too many leaders have shown a total lack of courage and moral fortitude to stand up for children. Luckily, a few have.
So, come on, Hollywood. After you've slept off the excitement of your night on the Red Carpet, let's start working on "Spotlight, Part 2" and shine a light on the abuse happening to children inside of school buildings.
USA Today engaged in a year-long national investigation, which had dozens of journalists poring over 10 million individual records, visiting schools and police stations, and chasing down leads all over the country. This is the perfect starting point for any screenplay writer or documentarian ready to put another colossal failure to protect children on the big screen.
How Widespread Is the Problem?
According to a 2014 piece in EdSource:
The U.S. Government Accountability Office said the nation's K-12 schools lack a systemic approach to preventing and reporting educator sexual abuse of students, despite a problem that a (2004) report said affects an estimated 9.6 percent of students–nearly one in 10–who are subjected to sexual misconduct by teachers, coaches, principals, bus drivers and other personnel during their K-12 career. (Even in 2014, that 2004 estimate was the most recent available.)
Just to be clear, the report carefully draws a distinction between "sexual misconduct" and "sexual abuse," which is significant both legally and in terms of impact. "Sexual misconduct" covers physical, verbal and visual behavior–sexual abuse, sexual harassment, suggestive comment or letters, jokes, inappropriate photos and dating students. The report also cautions that this study is based on an exhaustive review of research literature and publicly available documents, but is not a rigorous scientific study. So the report offers a projection of its impact.
Still. Ten percent of America's school children equals five million children.
Yes, there is a difference between sexual abuse and sexual misconduct, but as a parent and former educator I care about it all. It can't be happening in schools.
How Are Different States Doing?
We will soon know more. In light of the USA Today report, there will be state-by-state audits of how teacher misconduct is documented and tracked. What we do know is that there is great variability among the states in terms of how well they are checking the backgrounds of those they hire and documenting and sharing information about teacher misconduct.
While my state of Rhode Island earned a D and neighboring Massachusetts earned an F, seven states earned an A. It is hard not to be startled by the fact that only 15 states earned an A or a B. There is no question that much work remains to be done and that the situation in far too many states is, in a word, appalling.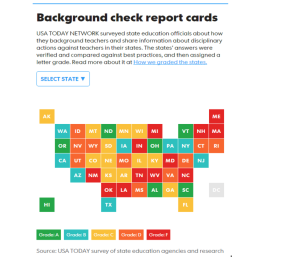 ESSA Should Help
While ed leaders and policy wonks argue the merits of the Every Student Succeeds Act (ESSA), it contains a provision that is long overdue and should have us all celebrating and breathing a slight sigh of relief.
The provision bans the practice of school districts recommending educators accused of sexual misconduct to work in other communities. While it's hard to accept that this ban even needs to be put in writing, it is a victory for the many advocates who have worked for decades to get that language into a bill.
Just as the scandals in the church were hard to talk about, so is this. No one wants to even consider, let alone accept, that children are being sexually abused when they go to school.
These horror stories about patterns of sexual misconduct and "passing the trash" seem to surface every few years and have for decades, but we haven't done nearly enough to identify a systemic fix for this systemic problem. And if even a fraction of that 5-million-child estimate involves physical abuse, it's an epidemic we cannot afford to keep ignoring.
So Hollywood, pivot that spotlight and tell the eerily similar story of what is happening in far too many of our schools. We've known about it for years but perhaps we need to see it on the big screen to actually do anything meaningful about it.
— This feed and its contents are the property of The Huffington Post, and use is subject to our terms. It may be used for personal consumption, but may not be distributed on a website.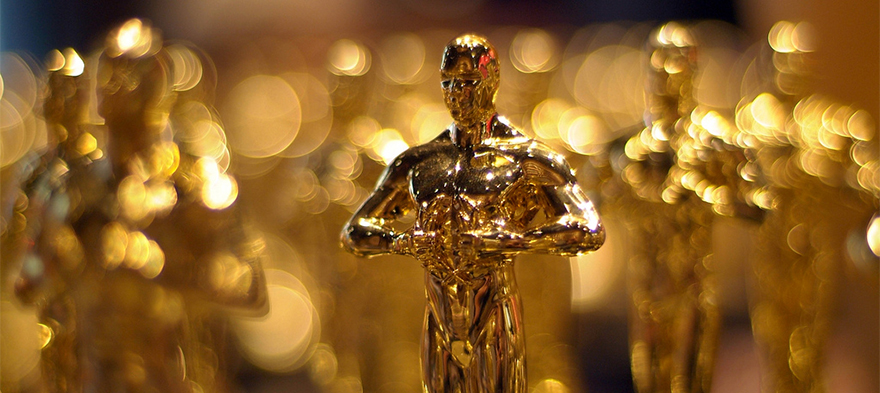 Source: Black Voices Huffington Post
Link: Hollywood, We Need a 'Spotlight 2' Exposing the Abuse in Our Schools