For parents of young children, is there anything more important than knowing your kids are safe … at school?
And that is beyond physical safety. Today, we all make assumptions about safety, including safe and healthy environments. But in recent weeks, that has changed dramatically. The Flint, Michigan water crisis opened up a torrent of new concerns about an old issue. Now news stories and reports about pollutants in city and community drinking water, including lead and Teflon chemicals, are destroying those old assumptions and raising fresh worries about problems we all thought were solved. Here in my state, Ithaca, one of New York's greener cities, recently tested school water and found high lead levels. In Los Angeles, elevated lead in school drinking water was also found in the district's new systems, but leaching from new brass fixtures, not old pipes. This is truly back to the future.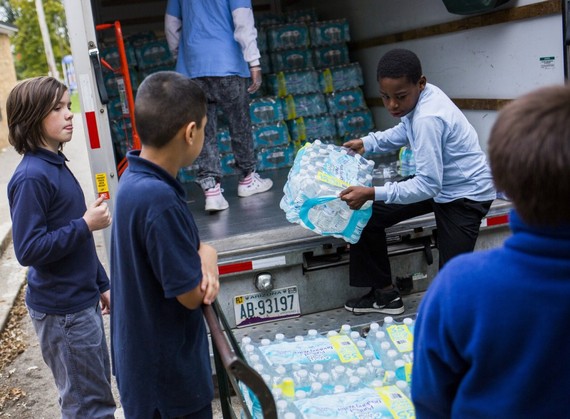 Students help transport bottled water in Flint, MI.
There are laws across the county — local, state and federal — that require potable water in schools. But we ask, is testing taking place at the tap or only at the water source, and what happens if the test at the tap shows contaminants ? Aging — and new — water infrastructure must be fixed when problems are identified. And that's not cheap. So, for too many school districts and nonprofit child care centers, planned ignorance is the chosen path: no data = no problem. Schools are up against hard times: if they close the water fountains, can they afford to give kids free water?
Insulting Children. State of Our Schools, a new report, documents state and local support for K-12 school buildings. Among the findings, in 2008 the backlog on school maintenance was nearly $3 billion nationwide, and K-12 school construction spending is about 24% of the nation's total investment in all infrastructure. Twenty-four percent, yet 12 states offer no support for school construction and maintenance. And all states require children to attend school. Federally, there is almost zero support for school facilities, except for Tribal Nations schools, Defense schools, and FEMA, which is permitting its disaster aid to build a new school on a toxic dump in New Orleans, a big waste of scarce dollars, not to mention an insult to children .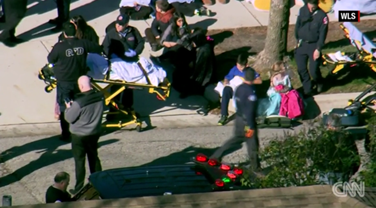 Children receive emergency medical attention after a carbon monoxide leak in a Chicago, IL school.

Back to the Future. Why are we struggling today to provide clean air and clean water for school children? These, and similar problems, are in our minds as we mark the 14th annual National Healthy Schools Day on Tuesday, April 5. Forward looking schools, educators, parents and children and advocates who understand the importance of healthy environments for children will again host scores of activities nationwide to celebrate and educate on school conditions: learn more at www.nationalhealthyschoolsday.org.
There are easy ways to create cleaner, greener and healthier schools. And, thanks to activities like National Healthy Schools Day, awareness is growing. Upgraded and properly maintained ventilation means cleaner air in classrooms. Daylighting is critical; let the sunshine in. And besides, some of those old fluorescent lights could contain toxic chemicals like PCBs. Custodians and teachers should be using only certified green cleaning products and advanced cleaning equipment. And let's get rid of those old carpets that kick up dust, dirt, molds, pesticide residues and everything else that has been tracked in for years. Increasingly, school administrators recognize that toxic chemicals in the classroom make some kids sick. Nationwide, asthma is the leading cause of school absenteeism. If we want test scores to improve, we can make sure sick classrooms aren't making kids so sick they are hospitalized or staying home.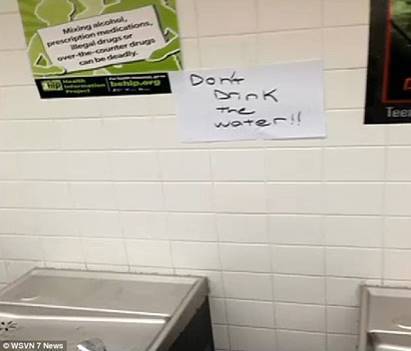 An unsafe water fountain in a Miami, FL school.
Because of Flint, and other re-emerging public health horrors, we hope this year's National Healthy Schools Day will feature renewed efforts to make classrooms safe for our kids. Again here in New York, we are seeing increased interest on the part of lawmakers to do something.
In our view, governors and state agencies could start by being brave enough to protect school children by enforcing existing environmental health laws and tracking and reporting on the worst problems. Sometimes more funding is needed; sometimes not. When old problems crop up anew, like lead in drinking water and dirty air in our schools, it is time for elected officials, government agencies, NGOs, parents, and unions to renew their push for healthy school environments.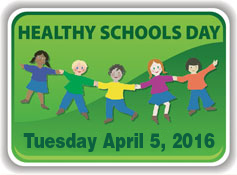 The 14th annual National Healthy Schools Day is April 5, 2016.
— This feed and its contents are the property of The Huffington Post, and use is subject to our terms. It may be used for personal consumption, but may not be distributed on a website.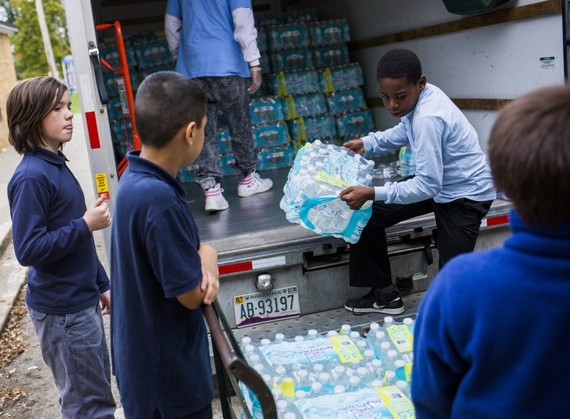 Source: Black Voices Huffington Post
Link: Back to the Future: Clean Air, Clean Water for Kids