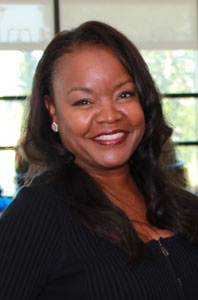 Dr. Tammy Robinson, President, WRCBAA
I am honored to serve as the seventh President of the Western Region Council on Black American Affairs (WRCBAA). The WRCBAA holds true to its value of reaching back and helping others. It is more important now than ever for our organizations to stay abreast of the changing issues in higher education. It is equally important for leaders to set the stage so that the values of the WRCBAA continue to be upheld.
In every decision that I make I will keep the mission at the forefront. My goal is to increase the membership of the organization in order to continue to provide opportunities for many more African American faculty, students, staff and administrators in our higher education community. The WRCBAA is an excellent organization with a working board. We continue to work to provide professional development, improve educational opportunities, develop relationships with businesses and build a strong and supportive network of Black American professionals. It is through our collaborations that we grow stronger. As the president, I will continue to foster a culture of excellence.
The founding history of the organization is significant because in 1968, an ad hoc Black Caucus was organized during the Annual Convention of American Association of Community Colleges, to address the changing needs in higher education. That caucus became the NCBAA — one of the first affiliated councils of AACC. The National Council on Black American Affairs serves as a collaborative voice, promoting the academic success of African American students, faculty, staff and administrators. The Western Regional Council on Black American Affairs is one of four regional affiliates.
The WRCBAA has provided me with a broader vision of who I am as a leader and I work towards that for others. It is with that in mind that we continue our advocacy at the local chapter level, regional level and the national level. I hope you choose to join the WRCBAA or your local chapter. The journey continues as we are all charged to continue to be the voice for advocacy and change.
In unity and advocacy,
Tammy R. Robinson
Dr. Tammy R. Robinson, President, WRCBAA